As per article below, the recent sell off in the major indices is affecting all equities but some are faring better than others. You can learn quite a bit from watching the sectors (individally) when a rout of this kind is underway. There were signs yesterday of some 'selective' selling when 29 of the DOW 30 got hammered leaving one stock with just a few scratches on the day. That stock was Apple. Not commodity focused by any means but clearly a stock that 'many' are not willing to dump regardless of the sentiment. This is interesting and could suggest that the market rout is a 'corrective phase' rather than a heavy broad brush sell everything approach.
In early trading on the FTSE100 today, BP took a hit faling to 452p before miraculously bouncing back to end up a few pennies at 483p. The stock has slipped back again but the trend of buying the 'dips' on selective stocks is clear to see if you keep an eye on sectors.
Near term, it will take some time to see the dust settle and as I suggested yesterday, a trip back to 23500 or 21800 (Sept month low) might help set the year up for a range bound level of 21500 to 24500. My hunch thus far is that 26500 on the DOW will not be seen again anytime soon. Write that one down to some post festive cheer and focus on the Q3 2017 levels as being a better metric of the markets genuine health. With Trumps Tax benefis to follow, the US economy should be doing fine and interest rate worries look overdone based on that mix.
For the moment, equities will bob about in ways that you may not understand. There may be no fundamental reason for one equity taking a harder hit than another and the reason may have more to do with margin traders and the over leveraged. If there are forced sellers due to excitable CFD's or spread bets, then they will effect the price. That said, this usually sorts itself out pretty quickly.
Gold has yet to make a 'nonsense' move. We've had Crypto's trading nonsense. We've had the broader Indices in la la land too. But Gold has yet to dazzle and thus it might not be too long before that go-to safety metal is trading in the 1400's. The only 'nonsense' trading at the moment is that it's still in the 1300's.
Please follow the link below to give Bloomberg the hits they deserve.
https://www.bloomberg.com/news/articles/2018-02-06/commodities-tumble-as-oil-to-copper-dragged-into-global-sell-off
Updated on
By Jake Lloyd-Smith and Heesu Lee
Bloomberg Commodity Index pares losses by end of Asian day

Banks say bullish case for raw materials remains intact
Commodities are escaping the worst of the global market rout as losses in raw materials are capped by speculation that the bullish outlook for demand remains intact.
The Bloomberg Commodity Index pared its decline to only 0.1 percent by the end of the Asian day as gains in precious metals and U.S. natural gas helped offset lower oil and industrial metals. While some raw materials were dragged lower as investors eschew risk, the reaction was muted compared with other assets. Stock markets from Hong Kong to Tokyo tumbled more than 4 percent following Monday's collapse in U.S. equities and bond yields.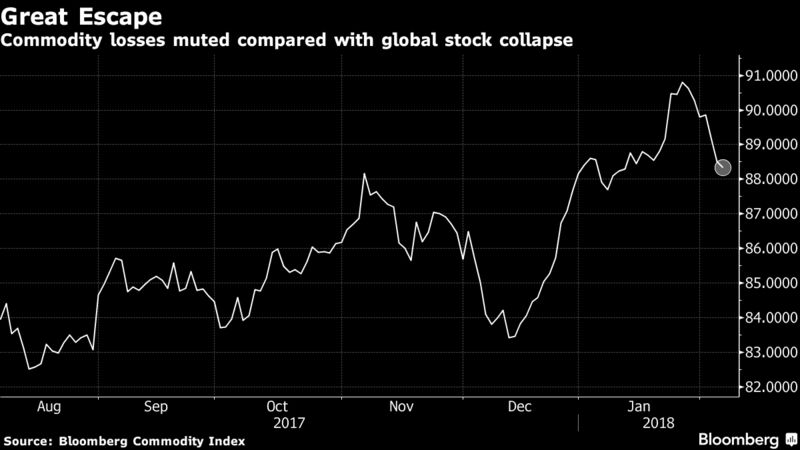 Commodities surged in January to the highest level since 2015 amid projections for the strongest global growth since 2011. Goldman Sachs Group Inc. last week said it's the most bullish on raw materials since the end of the supercycle in 2008 as growing demand eats into stockpiles. The global equity rout doesn't change the market fundamentals, according to banks including Australia & New Zealand Banking Group.
 "Clearly there is a risk off tone in the markets that will weigh on the sector," said Daniel Hynes, a senior commodities strategist at ANZ. "But there is no fundamental reason for this selloff to change our view of commodity markets."
The Bloomberg Commodity Index, which measures returns on 22 basic resources from crude to copper, was little changed as of 5:50 p.m. in Singapore after earlier falling 0.4 percent. The gauge was buoyed by natural gas and agricultural commodities as well as a jump in gold futures as investors sought havens from the global stock rout. By contrast, the MSCI All Country World Index of stocks lost 1.2 percent.
Oil Slips
Brent crude was 0.8 percent lower after earlier dropping as much as 1.2 percent. On the London Metal Exchange, copper sank 0.8 percent as aluminum, zinc, lead and nickel all declined.
Miners and energy companies were pulled lower by the broader selloff in equities. In Sydney, BHP Billiton Ltd., the world's largest mining company, dropped 2.7 percent as Rio Tinto Group slid 1.4 percent. Oil producer PetroChina Co. lost as much as 7.3 percent in Hong Kong.
For Citigroup Inc., the collapse in stock markets represents a buying opportunity.
"We recommend asset managers raise their exposure to industrial metals over the coming month, particularly at the expense of bonds and other fixed income," the bank said in a Feb. 5 report. Citi's case for metals rested on its analysis they do better than other assets during periods of solid growth when inflation is picking up.
The view that the broader outlook for commodities remains positive echoes remarks from billionaire bond manager Jeffrey Gundlach in January that raw materials may be one of this year's best investments as they surge during the late phase of the economic cycle.
"The drop in U.S. equities market is currently dragging prices of commodities down," said Will Yun, a Seoul-based commodities analyst at Hyundai Futures Corp. "However, it'd be too early to say commodities have joined the global selloff because the fundamental picture is still looking positive."
— With assistance by Tsuyoshi Inajima, Jasmine Ng, Javier Blas, and Manus Cranny